eSWIM offers private swim classes for swimmers who need individual advice and tuition. eSWIM also offers group classes for those wanting to improve their swimming fitness and train in a non-competitive and friendly environment. All classes are conducted at HBF Stadium (formerly Challenge) (click here for our map).
Just look on the pool allocation board for which pool your class is in or ask at reception on your way through.
Please contact Elena if you are interested in arranging a private lesson or attending a group class. You will need to complete the Enrolment Form and send it before or at your first class.
Private Lessons
Private lessons are perfect for beginner swimmers, those with specific technique or injury issues or if you can't make the group class times. Lessons are either 1 hour or ½ hour sessions. Your class time is booked exclusively for you and lesson times are fairly flexible depending on lane availability. As a guide, a beginner swimmer will need approximately 6 x 1 hour lessons to acquire the basic skills to swim freestyle but this varies for each person. An intermediate swimmer who is ironing out some technique issues may only need a couple of lessons to fine tune their stroke. Your lesson plan can be discussed once an initial assessment is done at your first lesson. eSWIM also offers private lessons for two people who are of a similar standard. These are only available as one hour lessons to ensure both swimmers receive adequate tuition.
Prices effective 1st Jan 2017.
Cost
1 hour private lesson: $80.00
¾ hour private lesson: $70.00
½ hour private lesson: $55.00
1 hour private lesson (two people): $100.00
PRIVATE LESSON CANCELLATION POLICY
eSWIM understands that life can sometimes get in the way of a swim and if you need to cancel, every effort will be made to reschedule your class for another time to suit. If you can provide at least 24 hours notice we will be able to reschedule your class with no cancellation fee. If you can't provide 24 hours notice and we can't fill your lesson with someone else then a $35 cancellation fee will be charged. If you need to cancel your lesson on the day it is scheduled please text Elena on 0415 314082. Please do not call as the call may not be answered while lessons are on.
Group Classes
Group classes can be attended on a casual basis. Each session runs for 1 hour and the classes are held on:
Mondays 10:30 - 11:30am
Thursdays 9:30 - 10:30am
First Saturday of the Month: 3:00 - 4:00pm (please check calendar for dates as Saturday classes are not held on Long Weekends)
UPCOMING SATURDAY CLASSES - February 4, March 11, April 1, May 6, June 10
A minimum level of skill is required to attend the group classes to ensure that all swimmers are comfortable in a squad environment. If you can swim 100m freestyle without stopping then come along to a group class. You can pay per class or purchase a 10 class pass.
Cost
$13.00 per class
$110.00 for a 10 class pass ($20 saving)
*Please note that pool entry fees are not included in these prices and must be paid before entering the pool.
What to Bring
All swimmers will need to provide their own training equipment for all lessons and classes as follows:
Goggles

Fins

Kick board

Pull buoy if you have one

Water bottle
If you need to purchase these items you can get them from sporting shops and online at swim suppliers such as Aqua Shop. A few tips when purchasing your equipment:
Goggles
This is a very personal decision as goggles have to feel comfortable and fit the shape of your face. The best way to find out whether a specific pair of goggles is the right shape or fit is to put the eye pieces on without the strap around your head and if they stay on your face for at least 3-5 seconds then they're a good fit. Some people prefer the larger mask-type goggles which provide good vision and tend not to leave raccoon marks around your eyes. If you usually wear glasses or contact lenses it is possible to get prescription goggles and they are worth investing in as it will make your swimming experience a whole lot more enjoyable if you can see where you're going.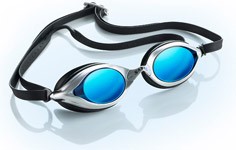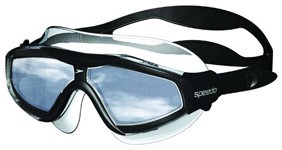 Fins
For beginner swimmers it is best to get fins that have a longer blade. Scuba fins are too long and the short training fins are not long enough. Try to get something like this:
Kick board
Any lightweight streamlined kick board will be fine. Don't get the most expensive board you can but get one that suits your size. If you're petite there's no point getting a giant kickboard!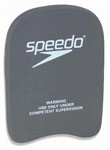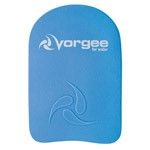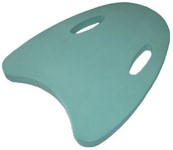 If you have other equipment such as pull buoys and hand paddles then you can also bring these to your sessions.