2020 Rotto Squad - Coaches
The eSWIM Rotto Training Squad sessions will be coordinated and coached by eSWIM Head Coach, Elena Nesci. For the 2020 Rotto Squad we welcome back the same expert team from 2019 – the lovely Siobhan Wilkins who has years of experience around the swimming scene, and Perth's most patient and caring swim coach, Katya Anderson who brings a wealth of experience to the pool deck this summer.
We also welcome back Special Guest Coach, David Locke for cameos throughout the season and for the ocean training sessions. With a combined Rottnest Channel Swim history of 13 crossings and over 50 years of swimming coaching, this coaching team has all the experience to guide you through your training season and help keep you healthy in mind and body for your crossing. They LOVE what they do and want you to enjoy every minute of your sessions too.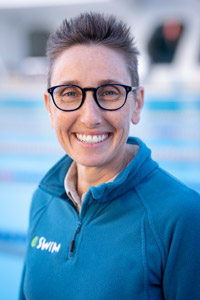 Elena Nesci
eSWIM Coach Elena Nesci's Rottnest Channel Swim history stretches back to her first team swim in 2000. Since then she has tackled further team crossings, a couple of duo crossings and a solo in 2005 where she was the 20th female in a time of 6hrs20mins. In 2012 she was part of the overall women's winning team in a time of 5hrs33mins. She has been an age group winner in several Open Water Races in the annual summer calendar and is the current holder of State and National relay records for Masters Swimming. She has trained countless successful Rottnest Channel swimmers of all standards over her 16 years as a coach and like all her eSWIM coaching programs, her approach to Open Water Swim training is about providing a supportive environment for swimmers to prepare physically and mentally for their own personal challenge. Listening to the individual needs of each client is paramount to her coaching ethos and providing advice on appropriate training schedules is essential to ensuring the health and wellbeing of all eSWIM clients.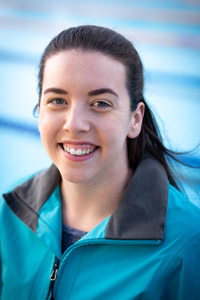 Siobhan Wilkins
Siobhan joined the eSWIM team in 2019 and quickly made an impact on all those lucky enough to be coached by her. With a background in competitive swimming, Siobhan brings a wealth of technical knowledge to the Rotto Squad. Her stroke correction advice is second to none and her laid back approach helps swimmers to achieve their full potential. She has coached for Trinity College and for the Australian Special Olympics Squad, is a Masters Australia Club Coach & Coach Educator, and regularly finds herself beating the men in the final heats of Masters Swimming events. She has won her age group in open water swims and knows what it's like at the pointy end of the field. She does all this with a perennial smile on her face and genuine care for those under her tutelage.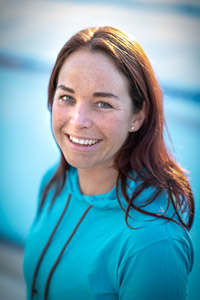 Katya Anderson
Katya has been with the eSWIM team for a year now and has become a firm favourite with the clients. As well as coaching for eSWIM, she is also well known for her amazing work as Head Coach of the Superfins, a specialist swim squad for swimmers with disabilities. Katya is a patient, knowledgeable, caring and inspiring coach who brings a huge amount of technical expertise to our squad this summer. She has an ASCTA Bronze Coaching Licence, was WADSA Coach of the Year 2012 & 2015 and her coaching prowess was very deservedly recognised when she was awarded Masters Swimming Australia Coach of the Year for 2015. Katya is also a very proficient swimmer and regularly competes in Masters Swimming competitions. She currently holds the WA 1500m record for 25-29 age group and has competed in the swim leg of the 3 x 70.3 Ironman triathlons, setting her team up for a win. Katya has trained and been support crew for many Rottnest Crossings teams.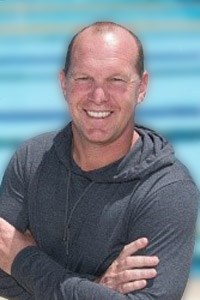 David Locke
Special Guest Coach David "Lockey" Locke is a 5-time Australian Lifesaver of the Year. He has been an Australian Lifesaving Team Representative and is also an over 40s World Record Holder. Even more impressively, Lockey has been a member of THREE overall winning teams in the Rottnest Channel Swim in 2011, 2013 & 2014, the last of which was in a time of 3hrs47mins. In 2005, Lockey's duo finished second and his 2012 solo swim bagged him a 4th placing in a time of 4hrs36mins meaning he was in the pub before most people were even half way!! As the holder of multiple World and Australian Surf Titles, Lockey has spent a great deal of time in the ocean and knows how to tackle tough and challenging conditions. With over 16 years of Surf, Open Water and Pool Coaching under his belt he also knows how to impart his years of accumulated knowledge in a friendly and supportive manner. He values the importance of sound stroke technique and is passionate about supporting swimmers of all standards to achieve their goals. Lockey is Head Coach at
Red Sharks Swim Academy
, a fun, friendly and supportive squad for junior swimmers.

The 2020 eSWIM Rotto Training Squad is proudly supported by